Editor's Note:  This is a companion piece to the podcast (link here) that Tom @SQLRockstar LaRock and I produced recently about options for escaping the hotel room blues while at the up-coming PASS Summit in Seattle this November.
Dear readers.  Friends don't let friends build Access databases and they also do not let them sit and stew in their hotel rooms while at the PASS Summit.  There are options that you may not be aware of and that is what we need to discuss between now and November.  I try to get to Seattle at least once or twice a year.  Walking into the terminal and hearing the squeak of the vintage unclaimed luggage that adorns the turnstyle of Northwest's baggage claim carousel is like a call home to me.  I love this city.  I want to share this love with you.
I know how it can be:  you're in a strange town, you have no idea of what lies around you in terms of dining choices, bars, attractions.  You don't know what areas of the city are safe to walk at night.  (More about how to get around Seattle in the wee hours when we disucss transit options in a future post.)  You find yourself relying on chain restaurants and room service to fuel you through the long days of training.  Perhaps you venture down to the hotel bar.  In this case I recommend that at the either the start of the evening, after the laptops, backpacks, and swag has been safely tossed onto that extra queen bed in your hotel room or at the end of the evening in getting prepared to get some rest and face the next 8-10 hour day in sessions, pre-cons, vendor exhibition hall, or networking.  You'll find plenty of other attendees, speakers, and PASS volunteers all staging their plans for the evening or unwinding after a night out in the Sheraton lobby bar. 
What I plan to do here and in future posts is provide you and your cohorts at the Summit with options you may not know about so you don't find yourself eating at The Cheesecake Factory across from the convention center on a nightly basis.  Wisconsin doesn't need that much cheese and neither do you.  I know Wisconsin, I live next to Wisconsin.  You, dear reader, are no Wisconsin.
This post will focus on dining options.  I'll look at nightlife, attractions, and getting around town in future posts.  In no order I give you my top feature dining options.  All opinions expressed are mine, based upon my experiences.  Past performance is no indicator of …..blah……blah…..
Matt's In The Market
Recently expanded, this high-end restaurant will be for those with either a high (or no) per-diem, but it is well worth the trip or at least eating the continental breakfast in the hotel and the lunch provided by PASS at the conference center.  The menu is narrow, at last visit there is a handful of entrees offered nightly; it has expanded a bit since then.  The wine options are broad and the culinary skill of the kitchen crew match the range of the wine list.  I've yet to eat anything at Matt's that I did not enjoy and I've been exposed to dishes I've never thought I would try.  Frankly, they have an advantage over their competition being located at the Pike Place Market and having access to the freshest seafood, vegetables, and fruits you'll ever stuff down your gullet.  The visual experience at Matt's is pleasant as well.  The windows at Matt's (located at the Pike Place Market) look over the market entrance and Elliot Bay.  A warning though, it may be difficult to get in.  I suggest making reservations a week in advance.  LINKS:  Matt's In the Market on Bing  Matt's In the Market Website
Dick's Drive In
Okay, I'm inducing culinary whiplash with positioning Matt's and Dick's together, but sometimes you just want a good, greasy cheeseburger with the best fast food fries and real ice cream shake you'll have just about anywhere.  Real fries.  Hand-dipped shakes.  You don't survive 55 years in the fast food business without (A) being one of the big chains or (B) providing quality comfort food, fast and at all hours.  Dicks has 5 different locations and if you have a car or better yet, use public transport (more on that in a future post) Dick's should be a destination.  I personally recommend their 45th Ave location in Wallingford.  It's a decent bus ride on (if I remember) the #26 from downtown.  Grab a bag of grub and hop the next bus back downtown or better yet head into Fremont a decent walk (or really short 5 minute bus ride) from Dick's for our next stop.  Dick's Drive-In on Bing Dick's Drive-In Website 
Kwanjai Thai
The best Thai food I've ever had.  Simply put.  Served out of a house.  Order anything on the menu and you'll walk away full and happy.  Kwanjai Thai on Yelp
Uwajimaya
Want cheap, quick Asian food?  Want a great assortment of options all in one location?  Want to be able to see live squid, abby-normal animal brains in jars (available for purchase I may add) and watch people buy groceries?  Uwajimaya grocery store is your best bet.  The place is huge.  Think your local mall's food court only with real (edible) food and some odd combination of Trader Joes-meets-Frankenstein's lab.  You can even pick up herring roe to nosh on back at the hotel later in the evening.  Korean, Japanese, Hawaiian, Chinese.  All pacific rim bases are covered.  Uwajimaya is located in the International District a nice walk or quick bus ride from the conference center and Sheraton hotel.  Uwajimaya's website
Le Panier French Bakery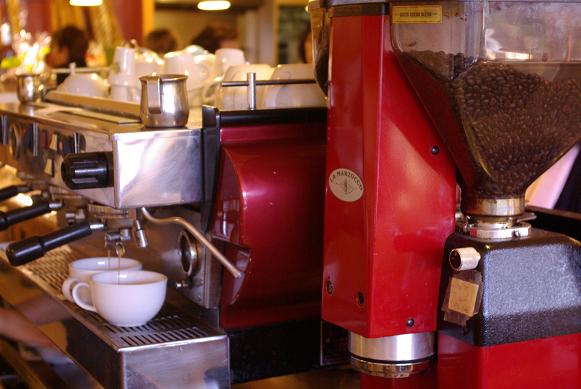 Don't want that continental breakfast at the hotel or at the conference center?  A short 10 minute walk down to the Pike Street Market puts you at a great French bakery.  Grab some pastry (or pastries) and very good coffee (forgo the neighboring original Starbuck's IMHO) and have a seat to people watch.  A good, but fattening start to a long day in conference hall chairs.  Le Panier on Bing  Le Panier's website
Local Color Coffeehouse
 Speaking of Coffee… my favorite resides just down the sidewalk from Le Panier.  I try to get down to Local Color at least once or twice on my visits to the Emerald City.  Grabbing a coffee, sitting out by the sidewalk and taking aim with my camera in between sessions is something I look forward to each time I'm in town.  Local Color serves Caffe Vita coffee (short of Water Street Coffee Joint in Kalamazoo I've yet to taste better beans).  You never know what you may see when you sit down to a table or couch at Local Color.  One thing you're assured of though is an amazing cup of bean water.  Local Color's website
 Coastal Kitchen
Coastal Kitchen is one of those all-around solid (and hard to define) restaurants.  Located on Capitol Hill (again, a short bus ride or share a cab or rental car) this "fish-forward" restaurant also has an abundance of comfort food.  Their chicken and mashed potatoes dinner is something I remember from one of my first trips to Seattle over a decade-and-a-half ago.  Coastal Kitchen on Bing  Coastal Kitchen's website
Ivar's
Ivar's is to seafood (fish and chips primarily) what Dick's is to cheeseburgers and fries:  The Seattle Standard.  Ivar's offers multiple locations, but the closest, within walking distance to the convention center resides bayside by the Seattle Aquarium, just west of The Pike Street Market and just East of fishing crabs out of your wet pants.  I recommend the halibut and chips, but salmon or cod are also available.  Don't forget the chowder too.  71 years in business means you know what you're doing and it shows.  The menu is far broader and higher-caliber than Dick's so don't make the assumption you'll only get fish-n-chips.  See for yourself on Ivar's website.
Be sure to also check out:
Wild Ginger Asian Restaurant and Satay Bar (great asian cuisine and an interesting ginger martini)
Tulio Ristorante (Italian Italian Italian)
Dahlia Lounge (seafood, and yes, made-to-order doughnuts for dessert)
Andaluca (for the paella, breakfast, or tapas)
This list only nicks the surface.  Seattle is a Foodie paradise.  I'll be back soon to give you my wish list of places I've wanted to dine at but yet have had an opportunity to hit.  I have a feeling I'll be able to leverage Brent Ozar's gastronomical weak spot and convince him to accompany me to some of these destinations while there.  (I can only hope.)  I'd also be curious to hear what your recommendations are.  Please comment on those here and perhaps we'll meet up in November!