Welcome to Hell. It's Beautiful and the Coffee is Terrible.
Last month I enured the most grueling (physically and mentally) experience of my life to date with the possible exception of the experience of watching my youngest son languish in a hospital bed for almost six weeks back in 2011.
I spent fourteen days with ten fourteen and fifteen-year-olds as well as three other adult advisers at a place called Philmont Boy Scout Ranch.  I've not been a Boy Scout since I was about twelve.  I tell my son Austen, who was the reason for my being in the arid New Mexican back country, that I dropped out of Scouts because I discovered girls early.  (The truth is I dropped out of Boy Scouts because I hated uniforms, camping, authority, and having to vacate my bowels in holes in the ground I need to dig.)  Pro-tip #1: Always dig the hole first.  I still don't like uniforms, camping, and the lack of flush toilets as well as regular showers that involve a thing called HOT WATER – but I only see Austen when he comes home from school and at dinner and felt us drifting apart so I felt it was important to share an experience with him that he had been looking forward to for years.
Before I get to the crux of this post – management of entry-level staff – I need to explain in some high-level detail what, exactly, Philmont is.
Philmont Scout Ranch sits on about 220 square miles of New Mexican wilderness outside of Cimarron, New Mexico.  It is the largest summer camp of any kind in the world; the property being donated in installments by Waite Phillips, from the founding family of the Phillips 66 oil company.  It consists of mountains, mesas, meadows, prairie, pasture, and rivers -it's quite diverse.  This being monsoon season it will rain (and sometimes hail) somewhere on the property every day from 1:00pm to 4:00pm.  Scouts come on treks of 10 days each (book-ended with a day at the start and end at base camp at an elevation of 6,500′ above sea level).  Each trek group maxes-out at 12 people (including adult advisers).  These advisers are also considered to be on vacation with the exception of intervening in personal safety matters (more on that – and the fact it's a massive lie – later.)  Scouts are in charge with one scout designated as a Crew Leader who is responsible for all matters of organization of the trek from obtaining gear, planning a duty roster, and ensuring all scouts and advisers make it to each destination camp daily as well as return to base camp safely.  Treks range anywhere from 30-120 miles in length for those 10 days depending upon which trek number you've arranged – there are dozens of different staffed camps (with Philmont staff, activities, and potable water – including cold showers) and trail camps (no staff or programs).
Trail camps are either wet (have potable water or access to streams or rivers that you can use if you are able to purify your water) or dry (you need to hike-in your water for use.)  As for food, you need to carry all your food with you in your packs.  This is not an issue since you'll only have two changes of clothes (one to hike in and one to sleep in), your tent, your sleeping pad, your sleeping bag, and perhaps a couple luxuries: in my case decent coffee, my Zune (to drown out the snoring from my son and the huffing of bears that may wander into camp during the night), my Kindle Fire (easier to carry that than multiple books), a puzzle book, and my Field Notes and pen for keeping a daily journal.
All food is dry.  You'll need it light and able to survive temperature changes from 35-90 degrees.  Most of the food consisted of Gatorade (which we would return to swap boxes because some of the scouts were eating it like it was a Pixie Stix), jerky, granola bars, trail mix, energy bars, and beef sticks.  Yep, nothing like jerky for breakfast!  Dinners were always a dehydrated bag meal with packaged cookies and perhaps a pack of some form of flavored pretzel chunks.  Coffee, when available is strained through a brillo pad (and I don't think they cleaned it since it was used to clean the dishes from the last meal.)  It's now been almost four weeks since I left the trail and I still can't walk down the granola bar aisle in the grocery without my gag reflex kicking in and my sphincter tightening a notch.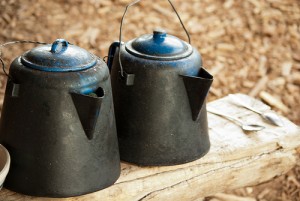 The daily routine once on the trail consisted of waking up at 5:30 am and hiking until we were at our destination – breakfast would be consumed on the trail.  Our first two days we didn't arrive into camp until after dark.  After those days we did a better job of arriving in camp before or after noon.  Once in camp we would need to hang bear bags for all our food and smellables – which by day 2 should have included each of us.  We would then need to set up a dining fly to eat and cook under should it rain and then collect water and finally set up our tents.  Then we would do programs where available consisting of rock climbing, horseback riding, branding, gold panning, and so forth.  Dinner would happen around 6:00pm and we would be exhausted and asleep around 9:00pm typically.
Our trek was designed as encompassing 65 miles including three side hikes to a 9,000′; a 12,000′; and a 13,000′ peak.
This was not a vacation.  It did make for an interesting case study in how we manage and are managed.

Our Staff is Highly Unskilled and Unmotivated.
The crew consisted of a five scouts: the Crew Leader, the Wilderness/Leave-No-Trace Expert, the Chaplin, and two other scouts.  Besides myself there was one other adult crew adviser.
All our Managers Will Eventually Yell At You… and They Smell Bad Too.
One would think you would not be able to draw correlations between these young teenagers and the office workers of today's typical office staff.  I found the line quite easy to draw very early on between the two.  We had a power struggle develop between the Crew Leader and the Wilderness Leader, something very common in the modern business world.  We had crew members that would not follow through (or even begin) required tasks even though the process remained roughly unchanged from day-to-day.
Two forms of management skills emerged in the group from the adult leaders – those individuals that were not supposed to intervene in the management process of the scouts unless someone was (a) bleeding (b) on fire (c) both. This goes to show you that adults are pre-disposed to management.  We had the task-oriented manager, aka the micro-manager.  The key technique of the micro-manager is constantly bombarding the employee (in this case the Crew Chief who was supposed to be in charge) with a constant stream of orders:
"Are you going to wake up the crew?"
"You ready to go?"
"Did you delegate responsibilities for cleanup after dinner yet?"
Then you had the goal-oriented (or Macro-Manager) who's approach was:
"Hey, I'm going to be really hungry at 6pm.  Can you make sure you rally the troops so I'm not going to be hungry?"
"What do we need to do in order to be able to leave camp by 7am?  Can you make sure everything is organized and people are assigned to make sure that happens?
I've never been a fan of micro-managing.  I had to suffer through working for the Steve Jobs of Micro-Management, Inc. early on in my career.  We would long for the days when this Manager (who was also the owner of the company) was traveling and not in the office.  It spared us the shouting of orders and the mantra of "you're worthless and so is your 8th grade education" with a scatter shot of f-bombs thrown in for good measure.
Ironically, this individual didn't have a college degree and the targets of his tirades were primarily university graduates.
I swore I would never be that type of manager.  To this day, when I hear coworkers, peers, or students of mine on a SQL Cruise talk about a bad leader, manager, or coworker I think to myself "if they only knew…"
What is interesting though is that for micro-management to not be a factor, the employee (in this case the Crew Leader) needs to be responsible and have the skill set and traits to be a self-starter and have the ability to think through processes from start to finish.  As adults we expect this to be a given when hiring staff or interviewing potential new team members.  In this case though we were dealing with a fifteen year old high school freshman.  These were new experiences to him – these items are not covered under the standardized testing that so many states in the USA are governed by.  It's sad too because in trying to teach facts and figures and how to do math and write properly we're not focusing upon the vital soft skills like problem-solving, thinking though situations and time management.
The end result was that the macro-manager started to gravitate towards the same micro-management practiced by the other adult leader because, despite the resentment generated in the Crew Leader and other scouts, telling a fifteen year old to do something yields better results than asking them to come up with a plan to get things done on their own.
Let's hope that this does not become the trend in the business world with Generations Y and Z.
What did I learn from this experience, besides the fact that there are both some spectacular and some truly disgusting places considered bathrooms in this world?  I learned that if you don't want to be micro-managed then you play a key role in ensuring that doesn't happen.  Show that you have the skills to follow a project though from conception to delivery without constant supervision.  Show Management that you are able to take matters into your own hands without someone holding them for you.  It may not work the first time nor the second or third, but eventually if you have a Manager of any caliber even the hardcore micro-managers will begin to relent.  If not, polish up that resume and start looking.  There is only one person out there with your career's best interests in mind and that person is wearing your shoes right at this moment.
If you liked the images in this post then please check out the full set of photos from my Philmont Adventure on Flickr.
---
Do you want to get more SQL Server training with a side of free consulting, professional development, networking, and rejuvenation? Then join me and other leaders in the SQL Server Community (including Buck Woody, Aaron Bertrand, Kevin Kline, Stacia Misner, and Allen White) in 2013 for SQL Cruise 2013 where we will cover not just the technical side of SQL Server, Powershell, and Business Intelligence, but also the aspects of your skill set that make you a more valuable resource for your company and yourself.

---