Though my official last day at work is August 9th (exit interview, et. al.) My last day doing production work was yesterday.  I am tethered to the on-call rotation until noon while my replacement returns from a trip to Italy.  What the hell, I've never been to Italy!  I've thought long and hard about how to explain my feelings and state of mind after almost 11 years on the job and the fact that one month ago I would've never thought I'd be walking out the door OR moving towards the development side of SQL Server.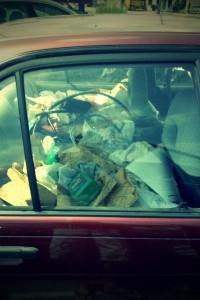 I walked out of a coffee shop back home a few days after giving notice and saw the back of this car.  I think it sums up where one ends up after 10+ years at the same company quite appropriately.
And no.  This is not my car.  It's my brain.