Yesterday, Brent Ozar announced in a post on SQLCruise.com that we, along with our sponsors: SQLSentry, Quest Software, MSSQLTips.com, and Red Gate Software,  are giving away a netbook each day of the cruise that sets sail on 8/2/2010.  Each Cruiser, as we've come to affectionately call them has a 1/15 chance of winning one.  We are developing very creative ways to give them  away too.  Our plan is to video record proceedings throughout the four days aboard the Carnival Imagination and will be posting throughout the cruise so you can see what is in store for you if you choose to join us in a future SQL Cruise.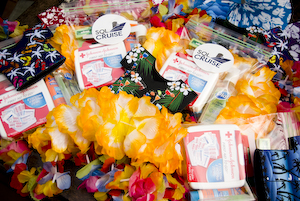 The Cruisers will also be receiving:
Hawaiian shirt can/bottle coozies – protect your beverages from heat
Leis – protect those sensitive pink necks from the sun
Hand fans – protect us from the heat (we're used to controlled-temperature environments after all!)
Drink umbrellas – protect our sensitive beverages from harmful UV rays
Travel packages of personal care items that include:

First Aid kits – protect us from ourselves when doing dangerous things like snorkeling, zip-lining, or paperclipping handouts
Sunblock –  protect our sensitive bodies from harmful UV rays (can't they make that sun-thing flourescent?)
Lip protection –  protect our sensitive lips from harmful UV rays and wind that does not come from a floor vent
Hand sanitizer – germaphobes don't leave home without it
You may notice the DBA inside of us showing through – we're all about protecting our data AND our Cruiser Students!  We even protect your luggage for the return trip from all the fluids in the personal care containers by enclosing them in a zip-seal baggie that is yours to keep!
Towels and shirts should be done by the end of the week – I'll unveil those then.